Employee Assistance Programmes
How do they benefit you and your staff?
Employee Assistance Programmes (EAP) are employee benefit programmes offered by employers. The benefits are intended to help employees deal with personal problems that might affect their work performance, health and well-being ranging from short-term counselling and referral services for employees and their immediate family. The service is totally confidential, and nothing is shared with the employer.
What is the cost ?
Policies can start from as little as £1.00 per employee per year ; depending on level of benefits and number of employees. Contact us today for an accurate quote based on your business requirements.
Who can access the support?
Any employee of the company and with some providers the cover extends to all immediate family members.
HR Departments
Employee Assistance Programmes help levitates the pressure on HR depts and provides employees using the policy confidence knowing that they are being advised by qualified professionals with absolute anonymity.
Industrial tribunals
The programme alleviates the worry for the employer in the knowledge that they have offered the service and in the event of a tribunal, they would look more favourably on a company who has a policy in place. This is especially important to offer support for employers and employees during the Coronavirus pandemic and coming out of lock down and going back to work.
---
Policies start from as little as £1.00 per employee per year
CALL US: 0800 690 6990
---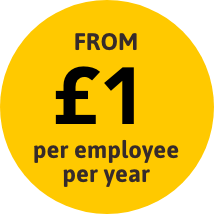 Benefits of EAP
The range of benefits vary depending on the level of premium. Comprehensive telephone helplines are available 24 hours a day, 7 days a week offering practical information and emotional support including:
Counselling and emotional support
Family issues
Bereavement
Trauma
Relationship issues
Stress related conditions
Tax information
Money management and debt support
Personal legal information
Benefits can also can include:
Up to (8) structured telephone counselling sessions, per issue for employee, partner or spouse and dependents (between the ages of 16-24 in full-time education)
Up to (8) face to face counselling sessions, per issue for employee including of cognitive behavioural therapy (CBT)
EAPs and Coronavirus
Due to the pandemic there is increased social isolation, health anxiety and stress over the inevitable economic downturn. Employers are faced with either continuing "furloughing" their staff, or some allowing staff back under very strict "social distancing rules" or sadly in some cases advising that their positions have now been lost.
To support the HR departments at this time is invaluable, as their resources will be totally under pressure, a policy which will advise on issues ranging from "workplace" clashes/difference of opinions to how to get help with troublesome neighbours, will no doubt increase staff loyalty and contribute to the prevention of staff absences due to stress related issues.
EAP is inexpensive, very easy to organise, totally confidential and is a the "new must have " when looking at employee benefits.
Everyone is fragile and apprehensive, mental wellbeing under enormous pressure, so an Employee Assistance Programme policy that could offer both employer and employees professional advice and support is needed now more so than ever.